DEAR LORD I AM GETTING OLDER. My brother is turning 23 on Monday. Maybe I don't wanna talk about it.... ;)
Anyway, I'm making his birthday cake, as per usual, and he's requested a chocolate cheesecake. Thanks to the kind Hershey's people, I had an easy recipe on hand that always rules.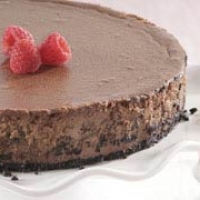 Fudge truffle cheesecake(you can find the recipe on the
Hershey's
website)
Ingredients:
* CHOCOLATE CRUMB CRUST(recipe follows)
* 2 cups (12-oz. pkg.) HERSHEY'S SPECIAL DARK Chocolate Chips or HERSHEY'S Semi-Sweet Chocolate Chips
* 3 packages (8 oz. each) cream cheese, softened
* 1 can (14 oz.) sweetened condensed milk (not evaporated milk)
* 4 eggs
* 2 teaspoons vanilla extract
Directions:
1. Prepare CHOCOLATE CRUMB CRUST; set aside. Heat oven to 300°F.
2. Place chocolate chips in microwave-safe bowl. Microwave at MEDIUM (50%) 1-1/2 minutes; stir. If necessary, microwave at MEDIUM an additional 15 seconds at a time, stirring after each heating, just until chips are melted when stirred.
3. Beat cream cheese in large bowl until fluffy. Gradually beat in sweetened condensed milk until smooth. Add melted chips, eggs and vanilla; mix well. Pour into prepared crust.
4. Bake 1 hour and 5 minutes or until center is set. Remove from oven to wire rack. With knife, loosen cake from side of pan. Cool completely; remove side of pan. Refrigerate several hours before serving. Garnish as desired. Cover; refrigerate leftover cheesecake. 10 to 12 servings.
CHOCOLATE CRUMB CRUST: Stir together 1-1/2 cups vanilla wafer crumbs (about 45 wafers, crushed), 1/2 cup powdered sugar, 1/3 cup HERSHEY'S Cocoa and 1/3 cup melted butter or margarine in medium bowl. Press firmly onto bottom of 9-inch springform pan.
This cheesecake always kills, I'm a huge fan (with a jiggly butt to prove it!). Now, my brother's wife is not a chocolate fan, and I'm not one to disenfranchise at the dessert table. So, I'll be making her a plain cheesecake, the recipe for which is found
at Tasty Kitchen
.
FOR THE CHEESECAKE:
* 2 packages (5 Oz. Package Or Sleeve) Graham Crackers (crushed)
* 1 stick Unsalted Butter, melted
* 32 ounces, weight Cream Cheese, Room Temperature
* 1-¼ cup Granulated Sugar
* 4 whole Eggs
* 1 Tablespoon Lemon Juice
* 2 teaspoons Vanilla
FOR THE TOPPING:
* 16 ounces, weight Sour Cream
* ¼ cups Granulated Sugar
* 1 teaspoon Vanilla
Preparation Instructions
Combine crushed graham crackers and melted butter; press into the bottom of an 8 or 9-inch springform pan. Set aside.
Combine cream cheese, sugar, eggs, lemon juice and vanilla and beat together thoroughly. Pour into prepared crust.
At 350 degrees, bake 40-45 minutes for an 8-inch pan, or 50-55 minutes for a 9-inch pan (cake will crack on top).
Remove from oven and let stand for 15 minutes.
Mix and then spread sour cream, sugar and vanilla over cheesecake and bake for an additional 5 minutes.
Cool and refrigerate at least 24 hours.
I'll let you know how this one rates when we eat it. :)
***UPDATE*** It was smooth and delicious, not overly sweet. I was packing the leftovers to go and dropped 1/4 of the cheesecake on the kitchen floor and into the air register on the floor. Wah! In retrospect, it was pretty darn hilarious. :) That is all.
Happy Birthday, you goof ball!
<3 Jen